I recently took another look at the current state of play for AVCHD video editors. Things are definitely improving. I downloaded a trial of Vegas Movie Studio Platinum Edition and I have been VERY pleasantly surprised.
Vegas Movie Studio Platinum Edition is from the Sony stable of editing software and falls between their entry level Vegas Movie Studio and Sony Vegas. All of which are available for trial downloads. The Studio Platinum Edition trial lasts for 30 days.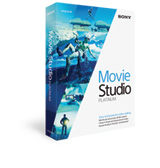 The description on the Sony Web site says: "you can import and edit video in nearly any format including high-definition HDV and Sony AVCHD." With this in mind I was not totally confident that the software would import my M2TS files from a Canon HG10 camera – but it did so flawlessly. I hope that this is not some sort of fluke that only works in the trial version – we shall see.
Having imported the clips I was nervous that the software might falter because of the massive size of the project but it worked without a problem. Having completed a project, Studio Platinum offers a multitude of formats in which to save the completed video, including Quicktime (MOV), AVI, WMV, RM and Sony AVC. These can be saved a various frame rates and dimensions. It appears that if you do have an HD camera or a Sony AVC camera that you can record back to the camera.
My computer is not super powerful (Core Due 1.83MHz with 2 Gb of RAM) and rendering took some time, but worked very well.